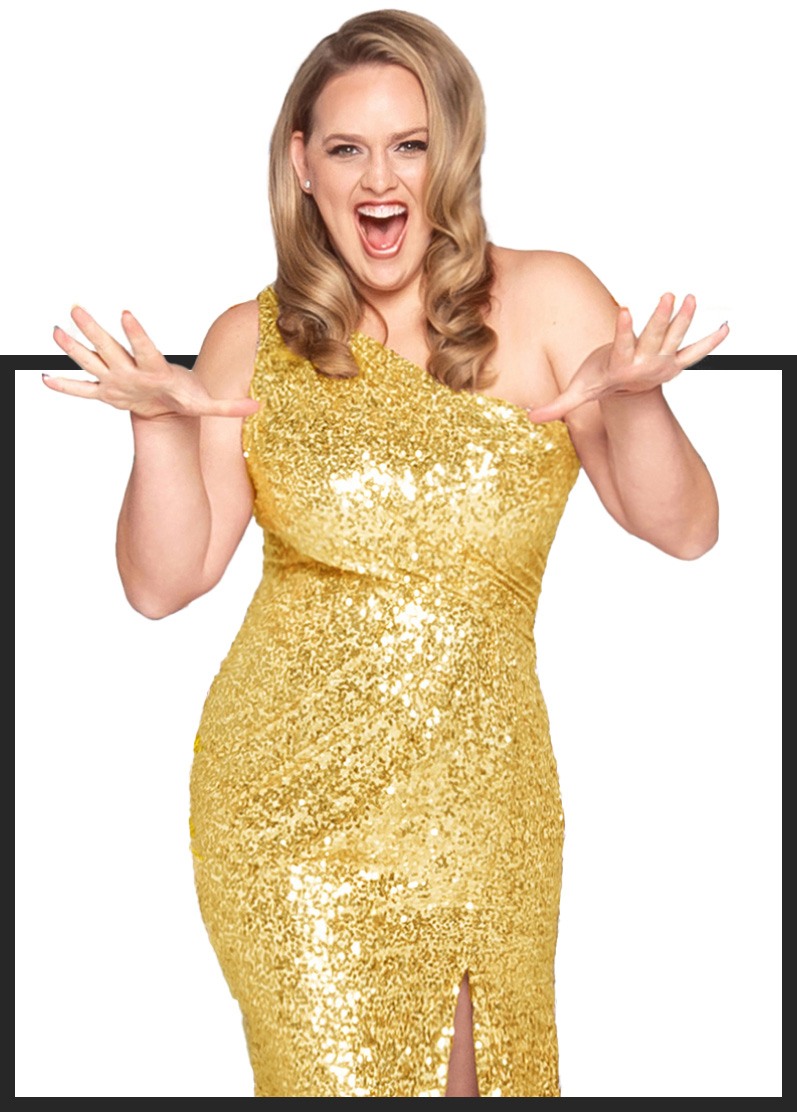 Hey! I'm RKA!
Short for Rachael Kay Albers. But the kids call me the One Woman SNL of Business Comedy (because I tell 'em to). I'm a brand strategist, business comedian, and a helluva good time. The kind of woman who monetizes her own divorce. Shit like that.
It's the biggest biz art experiment of all time!
In 2021, I'm teaching a free business school and creativity university in my Instagram stories. No opt in. No follow? No problem!
I'm burning down all the rules to see what's left standing!
Why? Well, you know what I realized after 12 years of running my branding & marketing agency?
When you hire an agency, you give up your agency.
My most successful clients were destined to be, not because they hired me, but because they hired themselves. 
Unforgettable businesses have one thing in common (and it's not their creative director).
It's the visionary behind the wheel of the business, the artist, the wild card, the renaissance woman not afraid to be good at everything.
So I'm doing an experiment and teaching everything I know FOR FREE, including my signature brand system, and giving away all the advice my agency clients spent millions to ignore.
Because agency is something we need to take, not hire.
Who says "FREE" is a dirty word in business? Not me.
This Whistle Was Made For Blowing
Exposing Lies, Pay to Play Relationships, and The Emperor's Lack of Clothes in Online Marketing
The first 10 recaps from when we got this party started! You're gonna like it better live on Instagram. Do that here. 
opt in optional
Bet you wish your inbox had RKA
You don't "have" to sign up for my emails. But you want to, admit it.
What did I hear about monetizing divorce?
Rumor has it I'm getting 365 divorces and monetizing my own pain? You heard it here second or third, probably! It's true!
Back in 2014, my husband and I decided to buck tradition and celebrate The One Year Wedding where we got married every day for a year. We thought it would make our marriage divorce-proof, but we were wrong.
Now we're getting The Happiest Divorce on Earth and, yes, I'm writing my memoirs about what leads a woman to marry "the wrong man" 365x. Because divorce doesn't have to ruin your life. In fact, I believe that divorce is the only way to make our family happy.
In the spirit of FREE SCHOOL, I'm also bringing you along for the ride and teaching you everything about writing a book, getting an agent, landing a book deal, and promoting your book once it launches.
Oh, and yes, I am making fun of that other divorce-monetizing, fedora-loving, fresh-faced life coach who spells her name wrong. Because business comedian. It's on brand for me.
Pre-order the book here, help me hit my goal of 1400 pre-orders, and get your name in the book!
Oh! I also have this thing called

It's sketch comedy meets business wisdom. Get ready because you're about to binge your way to a better brand.

I have no freebie to tempt you with.
No automated email sequence to whisper sweet nothings into your inbox late at night.
Here's what I do have: a hilarious show on how to market with integrity, sell your services & products successfully, and still not take yourself too seriously. Join me?