When an influencer and a thought leader love each other very much...
...they cross pollinate their audiences and multiply their revenue streams, of course. Tale as old as time.
I'm excited to announce that a new season of Marketing Muckraking is on its way — the podcast that asks, not simply what brand culture can do for us, but what it's doing to us.
This is the show for rebels, revolutionaries, and renegades who run businesses that burn the rulebook.
This season we're continuing the conversation around the age of the personal brand, scam history, and living through the attention economy.
If you're sick of business podcasts that have "all the answers" — I've got nothing but questions.
And here's my question for you:
What should I burn down this season? I'd love to hear from you.
p.s. Curious about the boy boss origin story?
If you liked this, read on: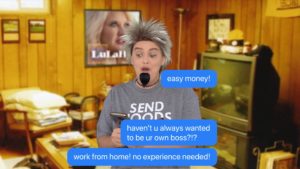 MLM messages are often called "dichard" pics of online marketing. But you're not a network marketer, so you don't have to worry, right? Not so fast…
Read More...