Open letter to all life coach websites that start with:
Hey I'm
[ WHO CARES ]
and I help
[ PATRONIZING NICKNAME FOR WOMEN WHO LEAD BUSINESSES ]
to
[ VERB YOUR COPYWRITER FOUND IN THESAURUS ]
a life they love and finally get
U
N
S
T
U
C
K

Imagine the word unstuck just reverberating endlessly across the mountains and back to you.

Into outer space…echoing echoing forever echoing. (I know there's no echo in outer space but screw you I make the rules here.)

Then once you're done imagining that I want you to sing THIS to the tune of Amazing Grace:
I ONCE WAS STUCK
BUT THEN I COACHED
WAS STUCK BUT NOW
UNSTUUUUCK
Then I want you to repeat those two steps approximately 500,000 times a day every day for the rest of your life and you still won't have heard the words "stuck" and "unstuck" as much as I have in the 12 years I've been building brands for life coaches online and doing competitor research.
I DON'T WANNA FIGHT ABOUT IT EITHERRRR.
I am the Bill Murray of this situation and I've been through enough in this Groundhog Day of life coach marketing.
Every day is the same!
We're all just stuck and unstuck again.
Over and over.
A Sisyphean nightmare.
Somebody, anybody save me from life coach website hell.
I NEED TO GET OUTTA PUNXSATAWNEY.

I'd love to know your favorite coaches who are disrupting the industry, having fun, and NOT STICKING OR UNSTUCKING ANYTHING I SWEAR TO GOD YOU BETTER NOT.
p.s. I'd like to get it on record that none of us are above making these girl boss style gaffes.
Check out my Instagram story highlights and go to UNSTUCK 💖
You'll see a trip down memory lane complete with all my non-ironic girl boss photos.
I am willing to be the butt of the joke in the name of making fun of business! This is my cross to bear!
Here's a sample to earn your trust:
Not too far off from Reegan, Keegan, Teegan, and Meegan, eh?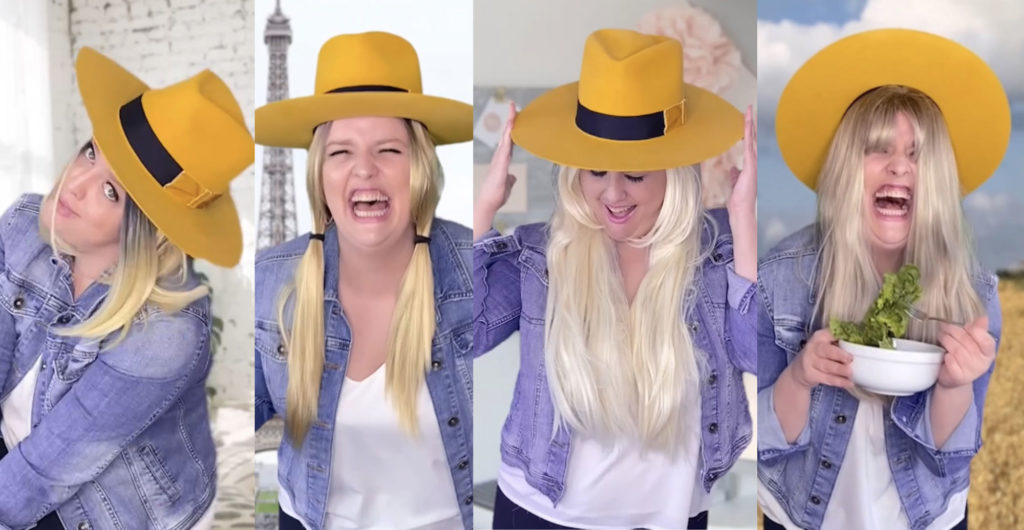 This makes sense. Since sexism is as internalized as it is systemic and that's where the girl boss phenomenon comes from, I've definitely got a lil' girl boss in me. And that's okay.
One commenter on Instagram asked me:
"Why isn't there space in this "online business" industry for both types of people? Why do "we" need to make fun of others to feel validated? So that "I" can feel better than people who I deem to be "vanilla"? It was one thing to make fun of bro marketers but now we are tearing down other women, too?"
But the truth is, women can be bro marketers, too, and the girl boss is one flavor of that.
I am fiercely committed to lifting up women, which is why I want them to have memorable brands and not feel the need to copy others (or copy their copy).
Vanilla is delicious. I want organic vanilla, not artificial flavors tho. And all this girl boss stuff just ain't the real deal IMO.
And if it gives you any relief to know this, let me validate you as someone who has built hundreds of brands and audited thousands upon thousands of websites:
We all start off writing bad copy.
Learning how to describe what you do in a way that feels alive, both to you and your audience is a looooong and winding journey.
One that goes through the prairie…
Past the eiffel tower…
Down a quaint cobblestone road…
Right into a nice big loft space with white brick walls…
With juuuust enough extra room to put a desk, some succulents, set up a lil' website…
Throw up a girl boss sign…
And get down to the business of getting unstuck.
And then after all that, you can write good copy.