Y'ALL I FIGURED IT OUT. What if I told you that you could join the 3 Comma Club THIS YEAR if you were simply willing do the following:
Re-mortgage your house (Or just sell the damn thing and move into your Dad's basement. It has a wet bar!!!)
Never see your kids because MOMMY'S HUSTLING, OKAY????
Gain 50 pounds from sitting/crying in your expensive ergonomic chair for 14 hours/day
Rack up two of those three commas in credit card debt 
YOU IN???? Let's get miserably rich together, y'all! Only 44 payments of $997 for my step-by-step formula. 
Ever hit a sales page for a program that promises extraordinary results and then catch the little asterisk at the bottom: ***RESULTS NOT TYPICAL?
You see it. You ignore it. Because you want to believe you're that atypical, extraordinary exception. You see Results Not Typical as a badge of honor reserved for special people like you who have what it takes to make shit happen.
But what does "extraordinary" REALLY mean here? Hard worker? Visionary?

…or reckless fool?
What the sales page and the expert selling it won't tell you is the painful behind-the-scenes of the Results Not Typical "success stories."
The sacrifices you can't ever get back, no matter how many commas you have on your tax return. The damaged relationships. The crushing debt. The mental break.
I've seen the backend of zero to seven figure companies who turn into these case studies.
On the surface, they are living the dream we're all chasing. Massive launches. Famous friends. Luxe lifestyles.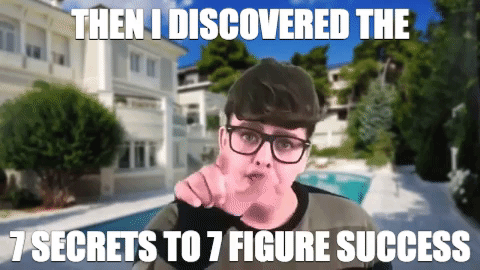 In reality, they have traded an extraordinary LIFE for extraordinary "results."
They are spending more than they make.
They are working around the clock.
They are lonely. And tired. And scared. And scrambling to keep up the appearance of being the exception to the rule.
I've always resonated with being a rule breaker. So I, too, have chased the Results Not Typical lifestyle. Until I saw the hidden asterisks with the additional costs that can't be quantified with commas.
In the world of online marketing, the extraordinary Results Not Typical testimonials are what sells programs and builds pyramids.
But it's the Results Typical life that leads to extraordinary living. (And, in many cases, sustainable businesses.)
Imagine a sales page for THAT:
Carrie spent 7 years building her business to the point that she could go full time with it and finally quit her day job.

She watched her revenue grow incrementally year by year. In that time, she had two daughters and took four months off with each birth to bond with them and give her body time to heal. She spent every Thursday volunteering with Meals on Wheels, where she developed a close friendship with an older woman named Ruth who calls Carrie her "adopted granddaughter." On Sunday, she meal preps for the week and hosts big family dinners with her extended family — and sometimes Ruth comes, too. It took longer than Carrie expected to earn a six figure salary, but she is proud to be debt-free and she has the systems and team in place to keep her business healthy, with a little less work than she did in the beginning. Carrie is happy, loved, and fulfilled."
Carrie's Results Typical story isn't extraordinarily marketable. You can't pull one line out and bold it and throw it on a sales page. It's not sexy or glamorous or fast or jaw dropping. But it is extraordinary.
The Results Not Typical lifestyle is reserved for a few because so few of us actually want to absorb its hidden costs.
The Results Typical lifestyle is the real dream we should be chasing. And in this dream, there are endless commas.
Business owner, Mom, bestie, aunt, sister, volunteer, adventurer, health junkie, gardener, salsa dancer, karaoke queen, DIYer, bookworm, dog lover, party planner, runner, amateur true crime detective, wine snob, _____, ______, ______, ______.

For extraordinary results, add as many commas as you want.