Updated March 18, 2019
I have a love/hate relationship with stock photos.
On one hand, a good stock photo can bring copy and content to life, adding value and quality to a small business' visual identity, without the price tag of a custom photoshoot. On the other hand, a bad stock photo can obscure copy and content, stripping a small business of perceived value while diluting its identity. (In other words, a bad photo can make your brand look and feel, well, crappy.)
The images we use to define our brands – from the photos on our website to the backdrops we use for inspiring Insta quotes – say more about us than our style preferences. Images make it easier for our clients to identify with us. They are one of the ways we encourage visitors to browse on. They work in tandem with our content to say, "You're in the right place. This is for you."
And here's where good and bad give way to just plain ugly. How can today's businesses reach their clients through images, if the images we have to choose from are not reflective of diverse lifestyles, experiences, and communities? How can stock photography be a useful tool, and not a hindrance, when by and large, the majority of stock photography available represents a single world view, mainly that of young, white, upper middle class, heterosexual, pretty people – all laughing alone with salad?
Stock photography has a diversity problem.
Let me give you an example. When I search for the word "woman" on four major stock photography websites, this is what I find: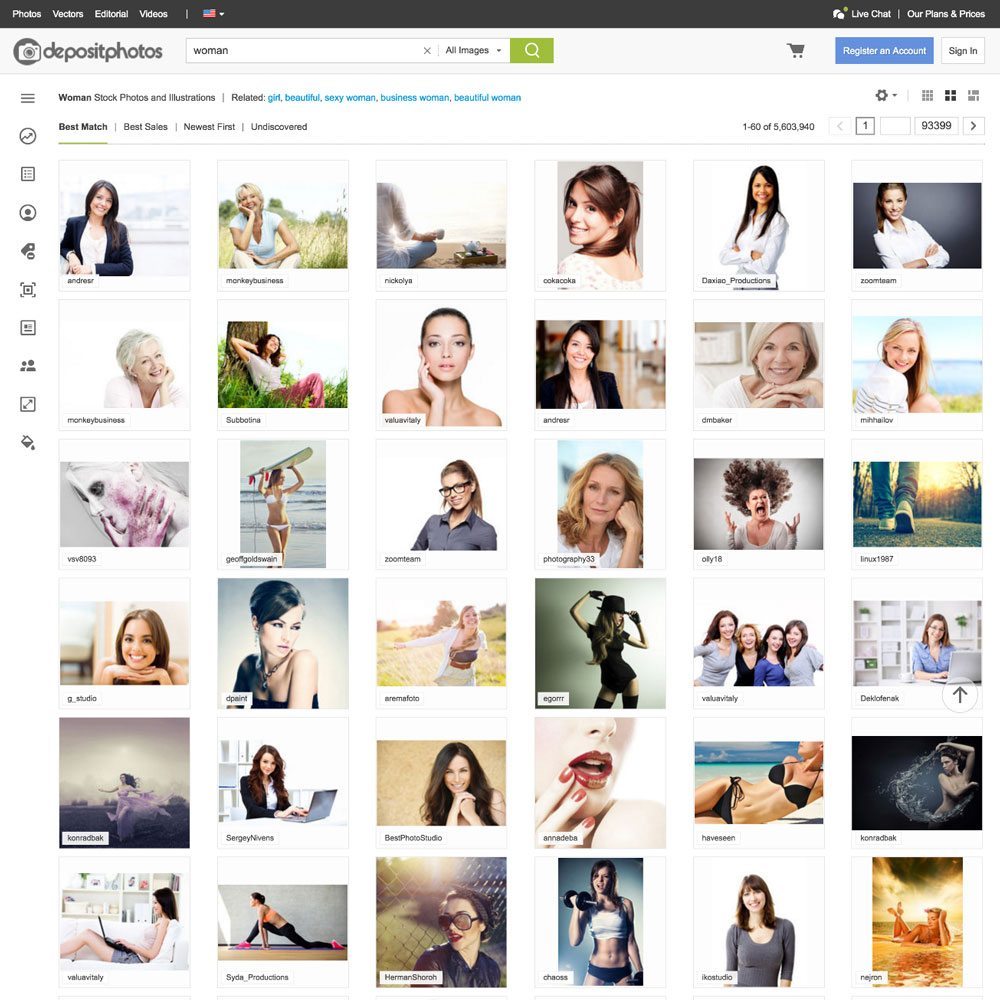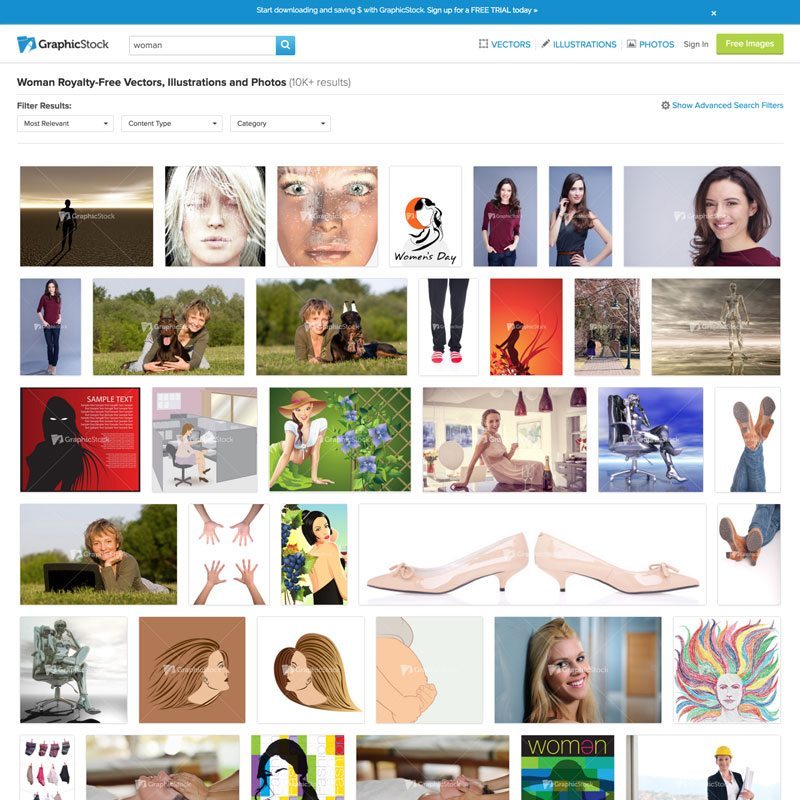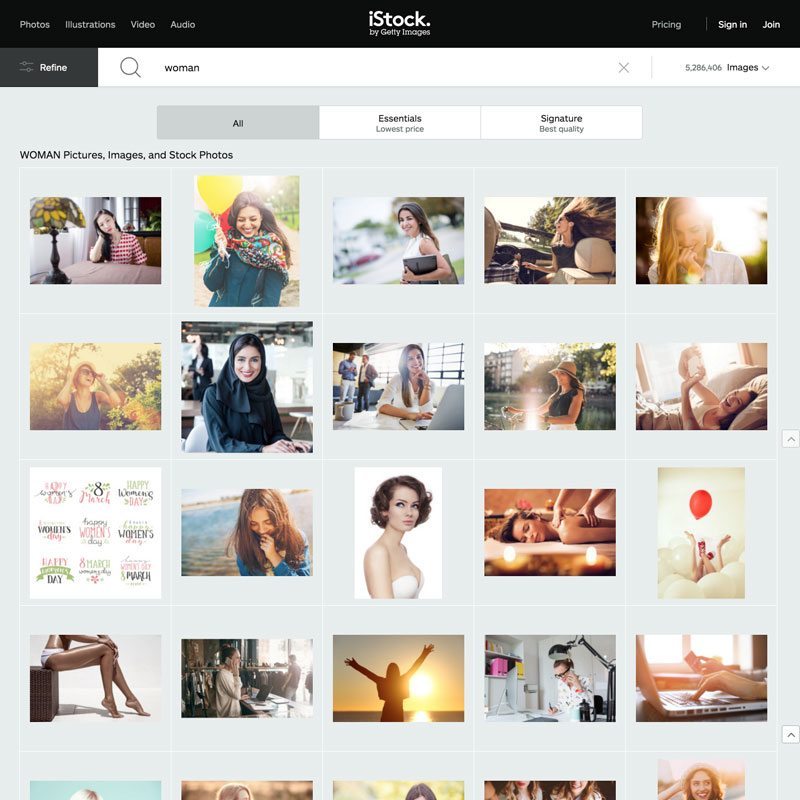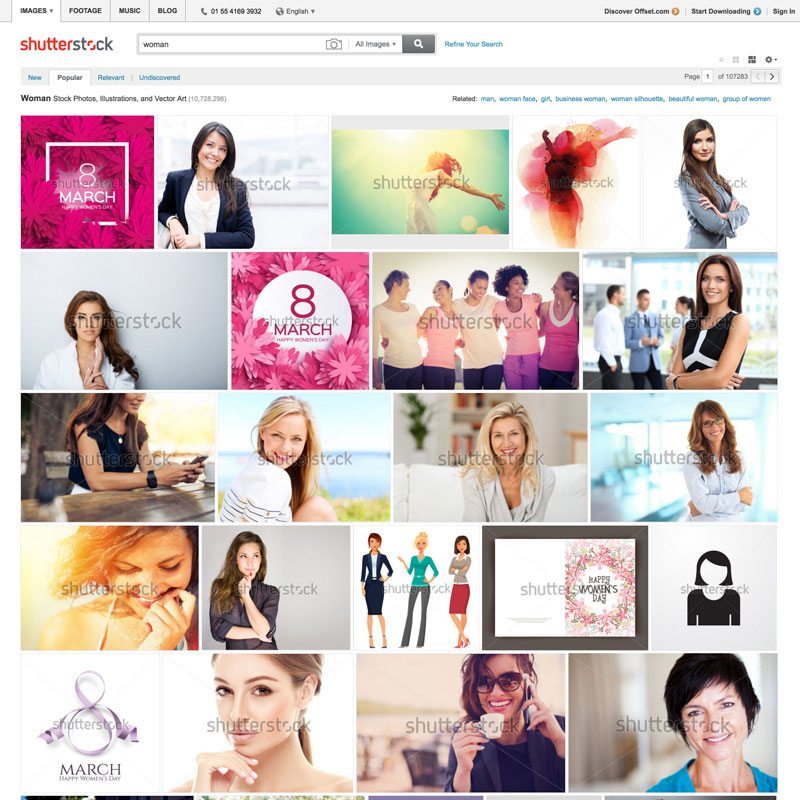 Of the 120 women featured above at the top of search results on DepositPhotos, GraphicStock, iStock, and Shutterstock, there are:
5 (visibly) multiethnic women
7 women who look to be above the age of 40
12 women experiencing an emotion other than giddy happiness
1 woman dressed "alternatively" i.e. outside of Western beauty standards
0 women of different body types
0 women of different abilities
0 women who appear to be living anything other than a luxe, upper middle class lifestyle
0 women who express themselves outside the gender binary
Let's take it one step further and search for "happy couple":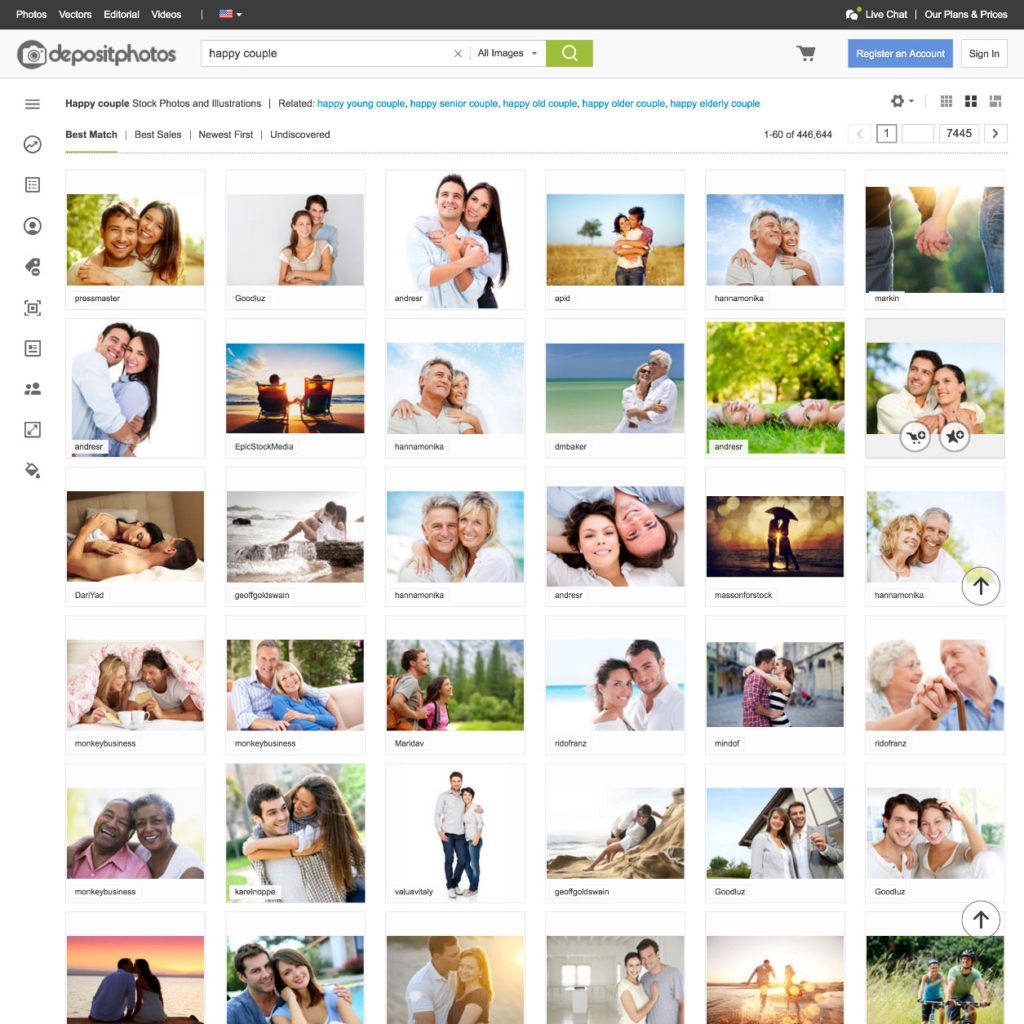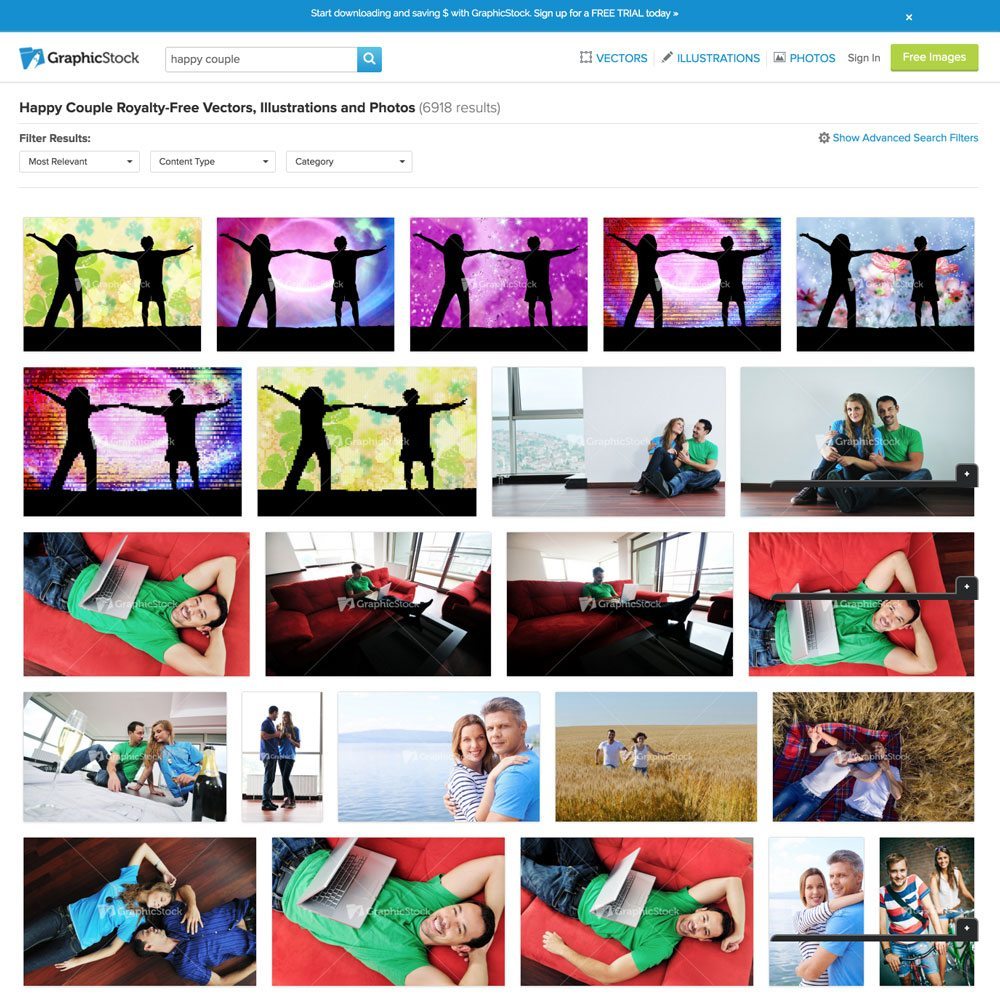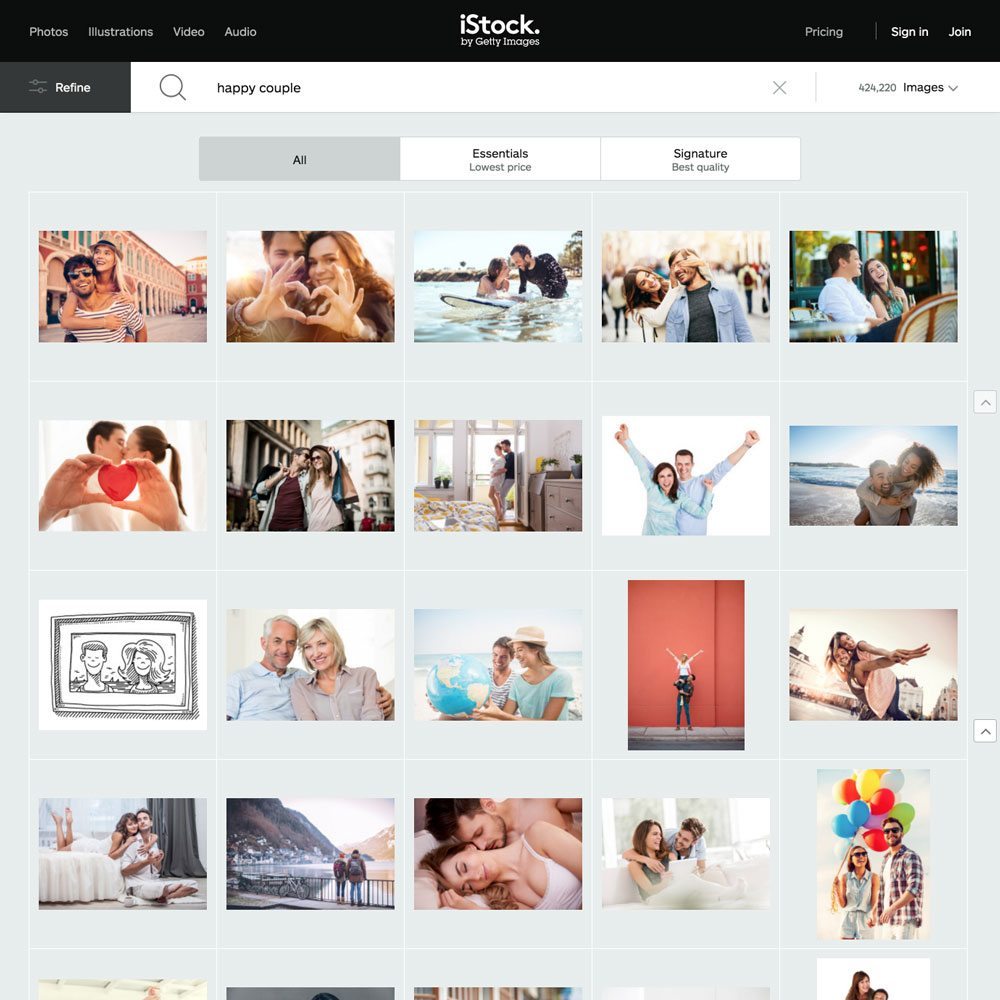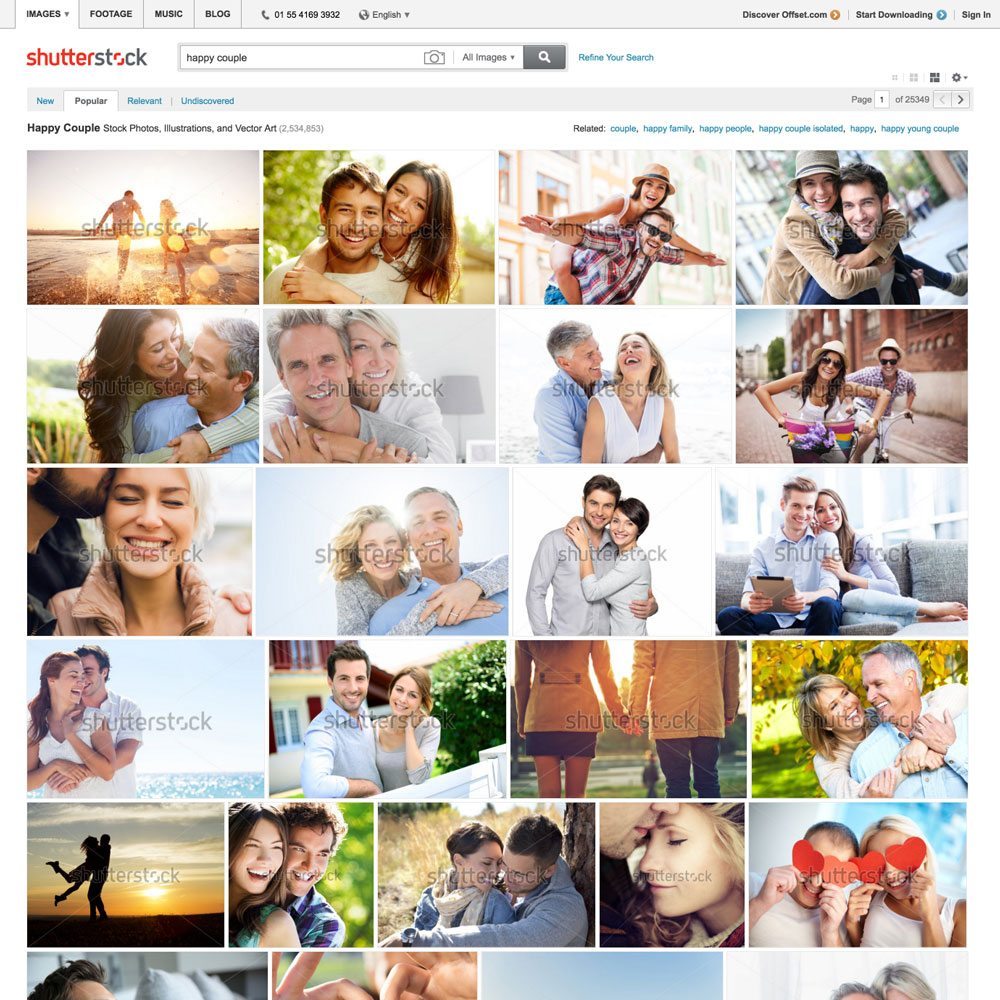 This search is even worse. Of the 101 "happy couples" featured at the top of search results on DepositPhotos, GraphicStock, iStock, and Shutterstock, there are:
10 couples who look to be above the age of 40
2 multiethnic couples
1 couple (or person) with different abilities
0 couples of different body types
0 couples dressed alternatively
0 couples who appear to be living anything other than a luxe, upper middle class lifestyle
0 couples who express themselves outside the gender binary
And, finally, ZERO same sex couples
This is a problem on so many levels. Media plays a huge part in bolstering the status quo and effectively excluding large parts of the population.
So much of the imagery we see — online and offline — culminates to send the message: If you don't look like this or live like this, you don't belong.
In terms of branding, when the imagery we have available to us is largely made up of a single lifestyle, experience, and world view, the message we send to anyone outside those narrow options is: These products and services aren't for you.
Of course, the problem runs much deeper than this. I could go on all day about what a lack of diversity in stock photography signals about power and privilege in society at large. But, for now, I'll simply repeat:
Stock photography has a diversity problem.
So, what are the options for finding stock photography that will connect with your community, when your community isn't comprised entirely of rich, smiling, salad loving white women? Based on my experiences, I've come up with a (short) list:
1. Stay away from free stock photo resources
I'm starting with the really bad news. It is difficult — sometimes impossible — to find diversity in free stock photos. And I mean diversity of people and diversity of options. Of the more than 10,000 Creative Commons Zero licensed images available on Pexels.com, a popular spot for free photos, when I searched for "woman," I found only 20 women of color. Total. Out of 10,000 free images. Forget diversity of age, body type, sexual orientation, lifestyle, etc. Those photos are not on Pexels.
And, of the 20 women I found, I feel like I know them. Why? Because I've seen these same faces — these same exact photos — on dozens of websites. When you only have 20 diverse women to choose from, you'll see those same 20 women everywhere. Not exactly a win for brands looking to establish a unique identity. So, I'm back to paid photo sites, where I'm forced to:
2. Use specific search terms
As you can see, if I'm looking for a stock photo of a "woman," my options will be limited to a specific type of woman. So, I'm going to have to add a qualifier to my search. Ugh. The very act of having to specify "African American woman", "Asian woman," or the ever popular stock photo descriptor "Multiethnic woman" feels gross. But it will narrow down my search and give me more options to choose from. But what if I'm looking for diversity outside of race and ethnicity? I will be hard pressed to find women of different sizes, sexual orientations, or lifestyles on websites like DepositPhotos or Shutterstock. (Yes, they exist. And yes, they are mostly offensive.) So in this case, I will have to veer from traditional stock photo websites and…
3. Go off the beaten track
Enter Stocksy, a royalty-free stock photo cooperative that prides itself on photography that is "beautiful, distinctive, and highly usable." Stocksy is one of the only stock photo websites I have found that allows you to search by gender, age, ethnicity, and location. Plus, I only found one picture of a white woman laughing with salad, so just that is an improvement on sources like iStock or GraphicStock.
Stocksy photos do a good job of reflecting different races, ethnicities, lifestyles, and sexual orientations. Could they do better? Yes. They only have a small selection of photos representing diverse body types, for example. But, by and large, the photos on Stocksy do veer from what we've come to expect from stock photo websites.
Not finding what you need on Stocksy? Try Blend Images (now part of Tetra): "the world's leading multicultural commercial stock agency." On their About page, Blend shares, "The world today is made up of diverse people that shape how we live and work. While the human experience changes constantly, some universal truths remain: we love, we feel, we triumph, we hope and dream. Blend strives to represent modern lives…"
Search for "woman" on Blend and you will have much different results than the ones I shared above.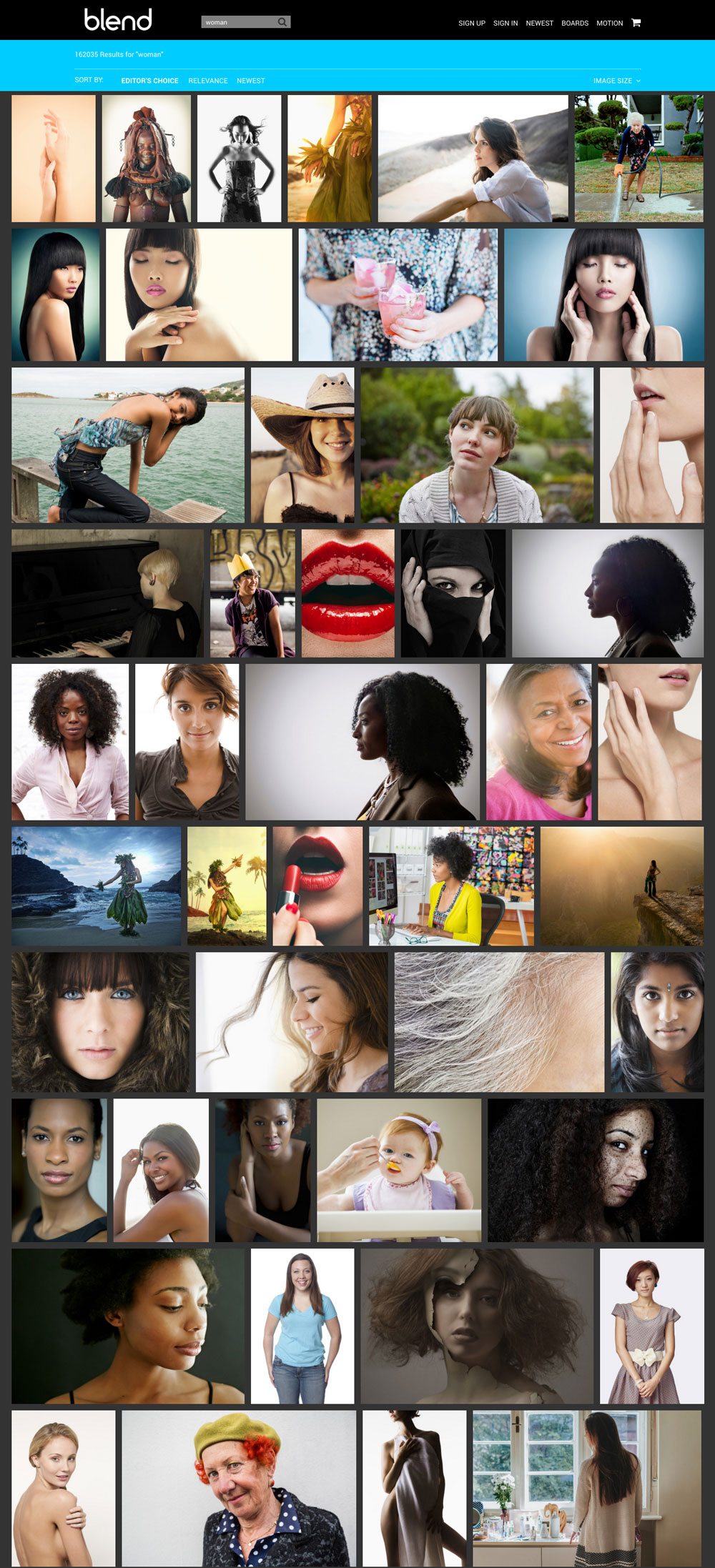 I don't have to add qualifiers to my search to see diverse women in my Blend results, though Blend, like Stocksy, does allow me to filter results by age, ethnicity, and gender. (And three cheers for the woman rocking bright red hair and a green beret.) Plus, Blend offers a respectable library of photos that represent different sexual orientations, as well.
Unfortunately, also like Stocksy, I'm still left with few options in terms of diverse body types or respectful representations of different religions. In that regard, we still have slim pickings, my friends.
Another downside of sites like Stocksy and Blend is pricing. For the budget conscious buyer, Stocksy and Blend are a stretch. The least you will pay for 5″ by 7″ 72 DPI image is $10 per photo. Compare this to budget sites like DepositPhotos or GraphicStock, where you can end up paying less than $1 per photo, no matter the size. In other words, it is expensive to be inclusive.
4. Try a niche stock photo site
In 2015, Lauren McEwen published a fantastic resource and reflection on stock photography for people of color on Madame Noir. You can check out that post here. McEwen spotlights two must bookmark websites, CreateHER Stock and ColorStock, both dedicated to providing gorgeous libraries of stock photos featuring people of color.
Not only do CreateHER Stock and ColorStock's photos boast impeccable quality and artistry, they are easier on the pocketbook for businesses on a budget — ColorStock's photos start at $7 and you can access the entire CreateHER Stock collection for only $7/month.
Note: Sadly, ColorStock closed its doors after I originally published this post.
Or, check out #WOCinTech Chat's free library (with attribution) on Flickr for hundreds of gorgeous images of women of color taking the tech world by storm. The featured image for this post is from #WOCinTech Chat.
5. Hire a photographer
If you're still not finding what you're looking for on the above sites, you're left with a final option — hire a photographer to capture the shots you envision. Of course, I don't have to tell you why this is less than ideal. The whole point of buying stock photography is avoiding the time and expense of hiring a photographer and setting up a custom photoshoot. But, for businesses needing high quality photos that represent the uniqueness of their community, this may end up being the most viable option. Again, it's expensive to be inclusive. And that's unacceptable.
---
Stock photography exacerbates privilege and deepens social divisions by suggesting that there is only one story worth telling, one lifestyle worth living. And, as a result, businesses forced to use this stock photography must either sacrifice diversity or pay for it — literally.
I don't have a "feel good" answer to this problem, but I know we can't ignore it. As more businesses purchase and display stock photos from sources like DepositPhotos and Shutterstock, the end result is exclusion. If, as many might say, stock photography is determined by "supply and demand" (which I don't fully believe) then we simply must demand stock photos that are respectfully inclusive of diverse lifestyles and purchase from companies that are already doing this.
Stocksy and Blend are a step in the right direction — CreateHER Stock, ColorStock, Canva's Natural Woman Collection, and #WOCinTech are even bigger, better steps.
If a picture says a thousand words, what do the picture you use say about you and your business' values? And what are you going to do about it?