This episode, originally entitled, "Rach, You Ok? Srsly. We're CONCERNED," was recorded as a live video on Instagram on March 1, 2021. (The same day I recorded the spontaneous rough draft of my one woman musical comedy extravaganza-ish situation. You really had to be there. Luckily, you can. It's Episode #1.)
This was only a few weeks after I started FREE SCHOOL, which I deemed "the greatest biz art experiment of all time." Partly as a dare to myself, partly as a wink to the lavish, overhyped promises of the industry. I'm in branding, remember? 😉
As I leaned into this experiment, I dared myself to say yes to every idea, letting that be my creative fuel, and letting that fuel drive my business.
But this quickly became much more than a business experiment.
I recorded this live video in response to questions I received about my mental health, after I started FREE SCHOOL, and a few weeks later, announced my divorce in an unconventional way.
I announced my divorce the same day I announced that I was writing a book, Saw This Coming A Mile Away, and I posted the book cover on Facebook and Instagram as my way of telling the world about both.
And my goal to have what I called "The Happiest Divorce on Earth" and rebrand divorce for myself.
What happened next was a flurry of phone calls and DMs from folks wondering if I hadn't just…lost my mind?
Strangers were diagnosing me in the DMs.
Folks I see a few times a year were insisting I must be in a manic state, urging me to take medication that I am not prescribed.
My local women's group sent the police to my house for a "wellness check."
And that was only Part I — stay tuned for what happened in April.
This whole time, my mental health wasn't treated with love or compassion. It was treated like a criminal investigation. The word "manic" was used as an accusation and even a subtle threat while cloaked in the word "concern." And my experience isn't uncommon. It is the rule.
I struggled with whether to share this or not. I even posted it, and then took it down, and here I am again with a different edit and a new intro.
Ultimately, I'm publishing this at the end of Mental Health Awareness month and that's part of why I decided to include it.
Because we're all healing within this broken system. And healing is messy. And if we hide that mess from each other, well, then we create a culture of people who don't know how to process pain.
And that's a culture that weaponizes mental health as yet another form of social control. Specifically with women.
It's a feature, not a glitch.
Sweep the mess under the rug and then we'll all just keep buying more and more potions and elixirs to keep the rug looking and smelling clean as a whistle.
Well, I think this whistle was made for blowing.
These early episodes of Making Fun of Business are an audio scrapbook of my experience running FREE SCHOOL and breaking free in a big, messy, blaze of rainbow glory from everything holding me back from myself. When I started it, I thought I was burning down the bullshit in my industry, but then the fire spread into my family and my marriage and then I discovered who my friends were — and weren't.
This episode is a part of the story. It's a snapshot in the scrapbook of a woman, a margarita, Mariah Carey, and a messy moment in time. This is why I did FREE SCHOOL. Thanks for being here.
Come to spy on me, stay because I'm hilarious. Bonus! This episode throws in:
If you love the show, please do subscribe and review!
If you hate the show, please send it to your enemies!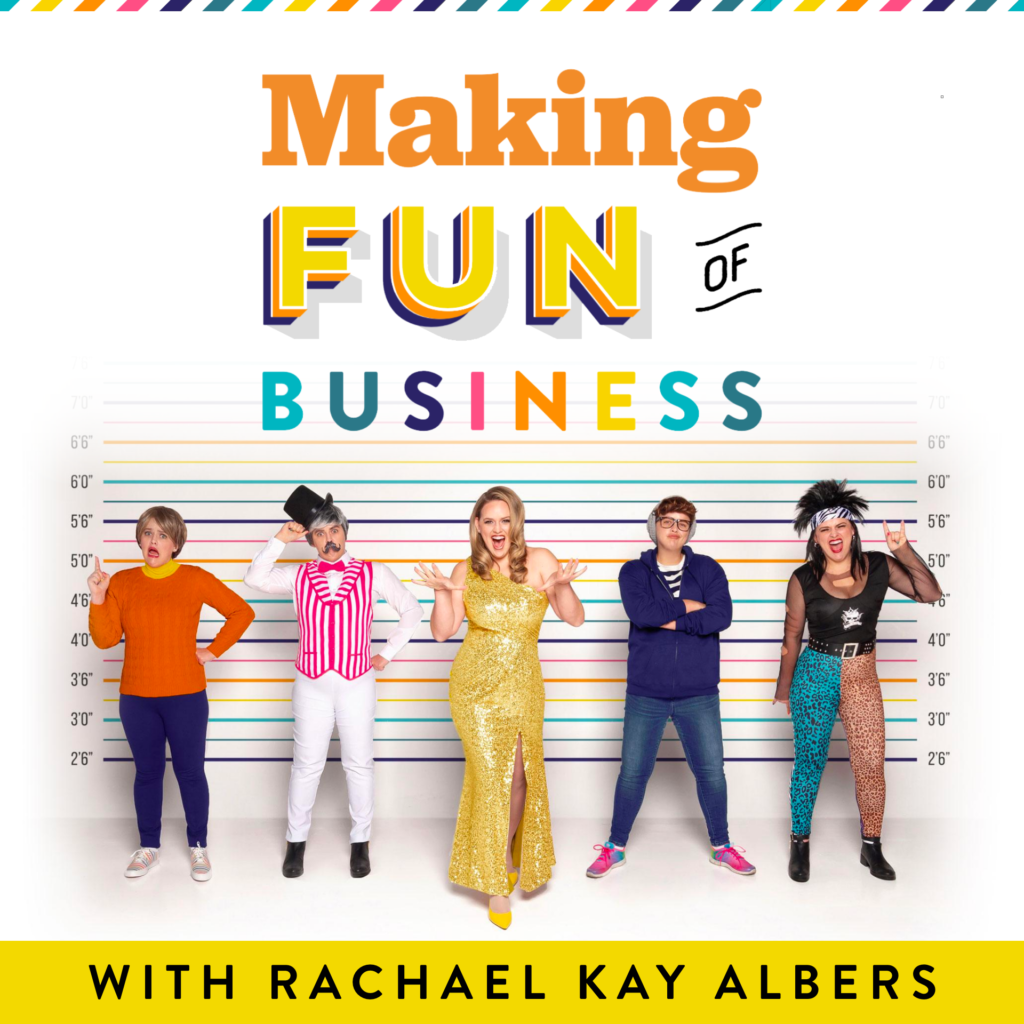 About the Making Fun of Business podcast
Hey GirlBoss! JK. We don't pull that infantilizing crap around here. Making Fun of Business, hosted by comedian Rachael Kay Albers, is the podcast for anyone who's been burned (or just bored) by the Online Marketing Industrial Complex and is ready to become the leader they need. TLDR; success is an inside job!
Where we swap B School for FREE SCHOOL, easy for honest, and goal digging for marketing in pursuit of meaning.
You don't need 10K, pay to play, or rosé all day to build a business and make an unforgettable impact in your industry.
Come for the truth telling trash talk, stay to meet your new favorite thought leader. Hint: it's you!
If you love the show and want to support more marketing muckraking, please subscribe, review, share with your enemies, and if you really want to make my day, you can go to BuyMeARobe.com and leave a little something on the nightstand. 

I have no freebie to tempt you with.
No automated email sequence to whisper sweet nothings into your inbox late at night.
Here's what I do have: a hilarious show on how to market with integrity, sell your services & products successfully, and still not take yourself too seriously. Join me here: