Travel back in time to the beginning of FREE SCHOOL, for this one woman musical comedy recorded (and completely improvised) live on Instagram on 3/1/2021.
I had just announced my book, Saw This Coming A Mile Away, and here are the receipts because this episode predicted the future of FREE SCHOOL, touching on everything from The Game by pickup artist Neil Strauss to everyone's favorite MAGA daddy, James Wedmore, to how I married the wrong man 365 times.
And did I predict Rachel Hollis' latest scandal a month in advance?
How about Jenna Kutcher coming into my DMs and gaslighting me so I'd shut up already?
Or a bunch of well meaning, left leaning white women calling the cops because I veered from Live Laugh Love culture and that must mean I'm "manic," mentally ill, and must be medicated???
Yeah. I predicted it all.
Plus, a rousing rendition of "God Bless Bezmerica" and an RKA's History of the United States of America, loosely inspired by Howard Zinn and the skinny noodle men who colonized the country in the name of eventually building lots of Targets.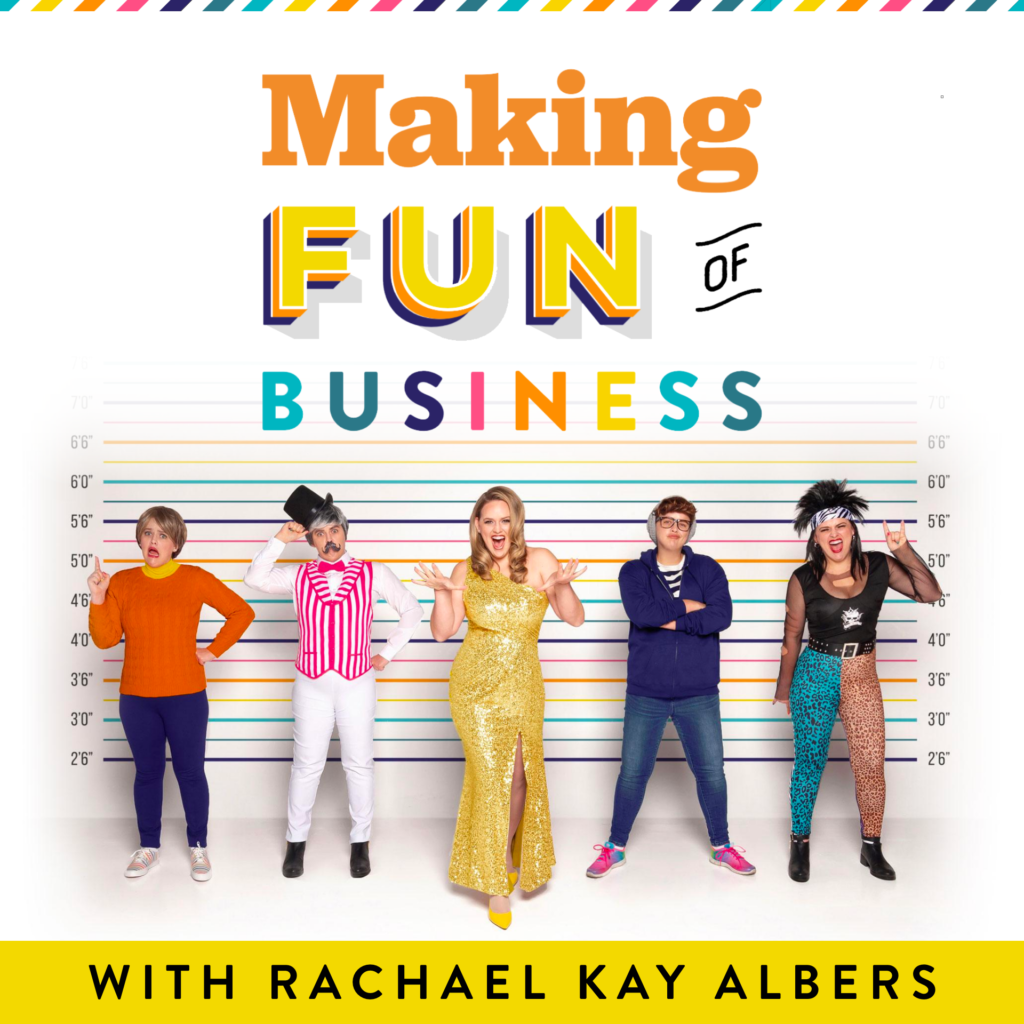 About the Making Fun of Business podcast
Hey GirlBoss! JK. We don't pull that infantilizing crap around here. Making Fun of Business, hosted by comedian Rachael Kay Albers, is the podcast for anyone who's been burned (or just bored) by the Online Marketing Industrial Complex and is ready to become the leader they need. TLDR; success is an inside job!
Where we swap B School for FREE SCHOOL, easy for honest, and goal digging for marketing in pursuit of meaning.
You don't need 10K, pay to play, or rosé all day to build a business and make an unforgettable impact in your industry.
Come for the truth telling trash talk, stay to meet your new favorite thought leader. Hint: it's you!
If you love the show and want to support more marketing muckraking, please subscribe, review, share with your enemies, and if you really want to make my day, you can go to BuyMeARobe.com and leave a little something on the nightstand. 

I have no freebie to tempt you with.
No automated email sequence to whisper sweet nothings into your inbox late at night.
Here's what I do have: a hilarious show on how to market with integrity, sell your services & products successfully, and still not take yourself too seriously. Join me here: