People who complain about B-School marketing are like Chicagoans who complain about the weather.
Every year, without fail, they whine:
OMG! I can't believe this is happening! This suckssssssss! Why is this happening to us?!?!??!"
Chi Town, you get one year of complaining about snow and ice and subzero temps. Then, you either move to Miami or you deal with it and focus your energy on other things.
Similarly, when it comes to B-School, you get one "season" of affiliate emails and retargeting ads to whinge and cringe. And then, you unsubscribe or you shut up.
Orrrrrrr, you do what I do and see "B-School Season" as an opportunity.
You have three choices:
Unsubscribe.
Whine.
Learn from the best affiliate marketers in the biz.
Y'all, I choose Door #3. And I think you should, too.
I'm not saying you have to love the emails or the ads or the Insta posts or the Facebook Lives. Especially if you've seen them before.
But you could whine about them or you could learn from them.
And let me put it this way, whining won't make you money. But, if you choose to look at B-School marketing the way a zoologist would study animals in the wild, then you have a chance to turn your cluttered inbox into sales.
Here are my hacks for making B-School Season work for you, especially if you have no intention of ever buying in:
1. Create a filter in your inbox where you send all B-School emails
Yes, if you follow Marie Forleo herself or one or more of her affiliates, your inbox is about to blow up with myriad B-Schoolaphernalia. If these emails are distracting you, filter them, but don't delete them. Filtering your B-School emails can help de-clutter your inbox now and, later, you can study the emails and the marketing arc from a birds eye view. Love 'em or hate 'em, these folks know how to sell, y'all. Their emails are a FREE masterclass in copywriting, course promotion, and affiliate marketing. If you delete them, you're losing hundreds or thousands of dollars in value.
2. Every time you see a B-School ad you dislike, screenshot it and put it in a swipe file
I used to get my panties in a wad about re-targeting ads. Then, I decided to take the power away from ads I hated and instead of being a "victim" to relentless ads, I became a doctor in eDouchery. Now I screenshot ads and put them in a swipe file. Now, I gotta say, most B-School ads don't fall under this umbrella. I reserve the eDouche title for Brad the Braggy Bro marketers with their 6 Figures in 7 Minutes ploys to grab your dough. And Marie Forleo and her crew aren't selling overnight success. But, I know enough people feel frustrated by B-School ads that this approach might help them re-frame their February experience and learn something from the ads they dread seeing in their feed.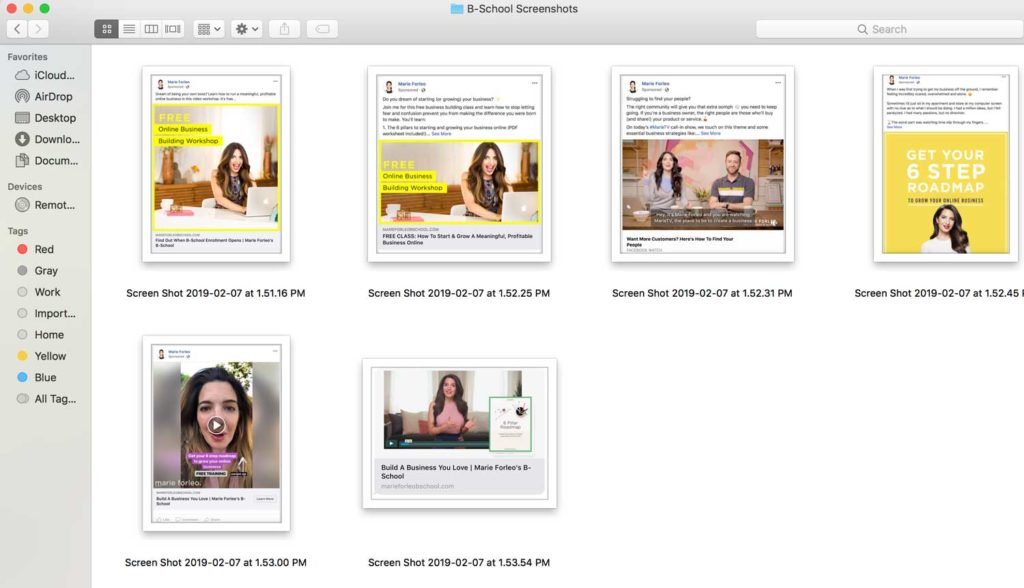 3. Start a file where you list everything you love/hate about B-School Season and why
This is the core of my philosophy on reverse niching. Sometimes, the easiest way to clarify what your brand is about is by taking a stand on what you're against. If B-School marketing rubs you the wrong way, that's cool. Take your frustration and turn it into a plan for how you're going to do things differently. Every time I find myself getting pissed about something in business, I see it as a signal that one of my brand values is coming to the surface. I could whine or I could pay attention to what my frustration is telling me about how I want my brand to show up in the world.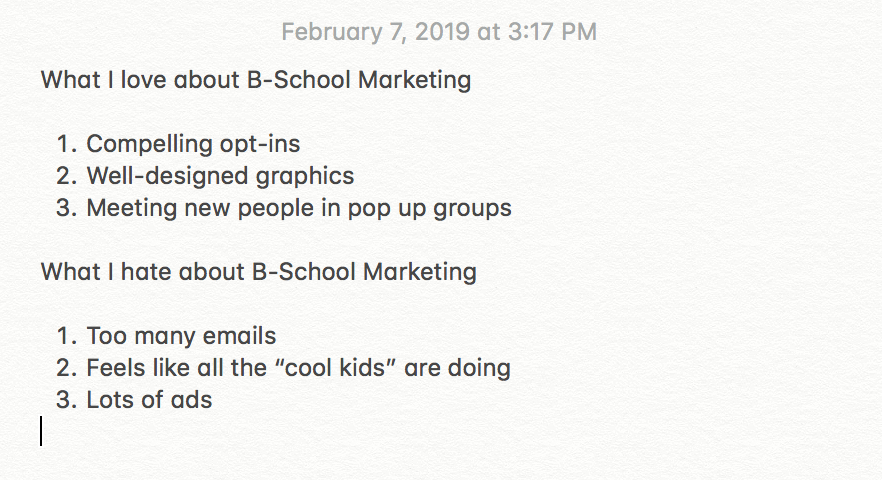 Real talk: I've never done B-School. But I have a lot of respect for Marie Forleo and her affiliates. They know how to build businesses and they know how to sell. So, why wouldn't I want to observe how Marie Forleo and her crew do things to improve my own business practices?
I could whine or I could pay attention. One will make me money. One will make me better. Which do you choose?
p.s. Want to have some fun? Join me in playing B-School BINGO.
It's like your lesson plan for treating B-School season like the free masterclass that it is. I dare you to play and not learn something that makes you a better marketer.
First person to email me with screenshots of their winning BINGO board gets a special prize.