Content Warning:
This episode covers sensitive topics including discussions of abuse. 
This episode, originally entitled "Loving The Gaslighter Within," was recorded live on Instagram on March 3, 2021.
The day I recorded this, I had shared my story on Facebook of healing from generational trauma and abuse in my family and how the systems I was taught to trust growing up, had let me down. 
And how all of this goes back to gaslighting. 
This episode blurs the lines between "personal" and "business" and that's why I decided it was important to include it in this podcast scrapbook of burning it all down and building a better way.
Because gaslighting isn't a problem that clocks in or clocks out.
"Business" is a fancy way of way of saying how modern humans meet each other's needs in the marketplace. Who's your daddy? Capitalism. Yeah. And Jeff Bezos.
And if the Bez is our capitalist daddy, GirlBoss culture is our big sister and she loves gaslighting even more than fedoras and getting unstuck. 
Oh, what is gaslighting you ask?
Google will give you its own version — manipulating someone into questioning their sanity — but I have my own take. And that's what we're talking about in this episode.
If "business" is how we meet each other's needs in the marketplace, gaslighting warps our sense of what we need to begin with. 
Gaslight. Gatekeep. GirlBoss. 
And speaking of the GirlBoss next door, little did I know, when I recorded this episode that a month later, I would be personally gaslit by the big sister of GirlBossdom herself, Jenna Kutcher. Yeah. That's why you gotta subscribe to this show. Come to figure out what the hell is going on here, stay for the Kutchinator. I can call her that, she's basically my ex. I'll explain in a few episodes. 
For now, consider this episode a joint study session in The School of Gaslighting, where we're reviewing:
🔥 How to identify gaslighting
🔥 Who are the gaslighters?
🔥 The most important step in eradicating gaslighting
The 3 types of people who struggle to identify gaslighting:
1️⃣ Someone who hasn't been harmed BADLY enough by gaslighting to need to identify what it is and why it's happening to them
2️⃣ Someone who's being ACTIVELY gaslit
3️⃣ The gaslighter themselves
But here's where it gets a little wild, so stay with me:
YOU ARE ALL THREE OF THOSE.
I AM ALL THREE OF THOSE.
WE ARE ALL:
1️⃣ Living in a gaslighting world
2️⃣ Being gaslit
3️⃣ Gaslighting others
Gaslighting is so finely woven into the fabric of our system, most of us can barely spot it anymore. Because it feels normal.
Because it is normal.
Gaslighting isn't someone else's problem. It's not something that other people do. It's our problem. And fixing it starts with finding, loving, and forgiving the gaslighter within.
Thank you to Dr. Paul Holmes of The Emotion Management Program for changing my life and helping me save it.
If you love the show, please do subscribe and review!
If you hate the show, please send it to your enemies!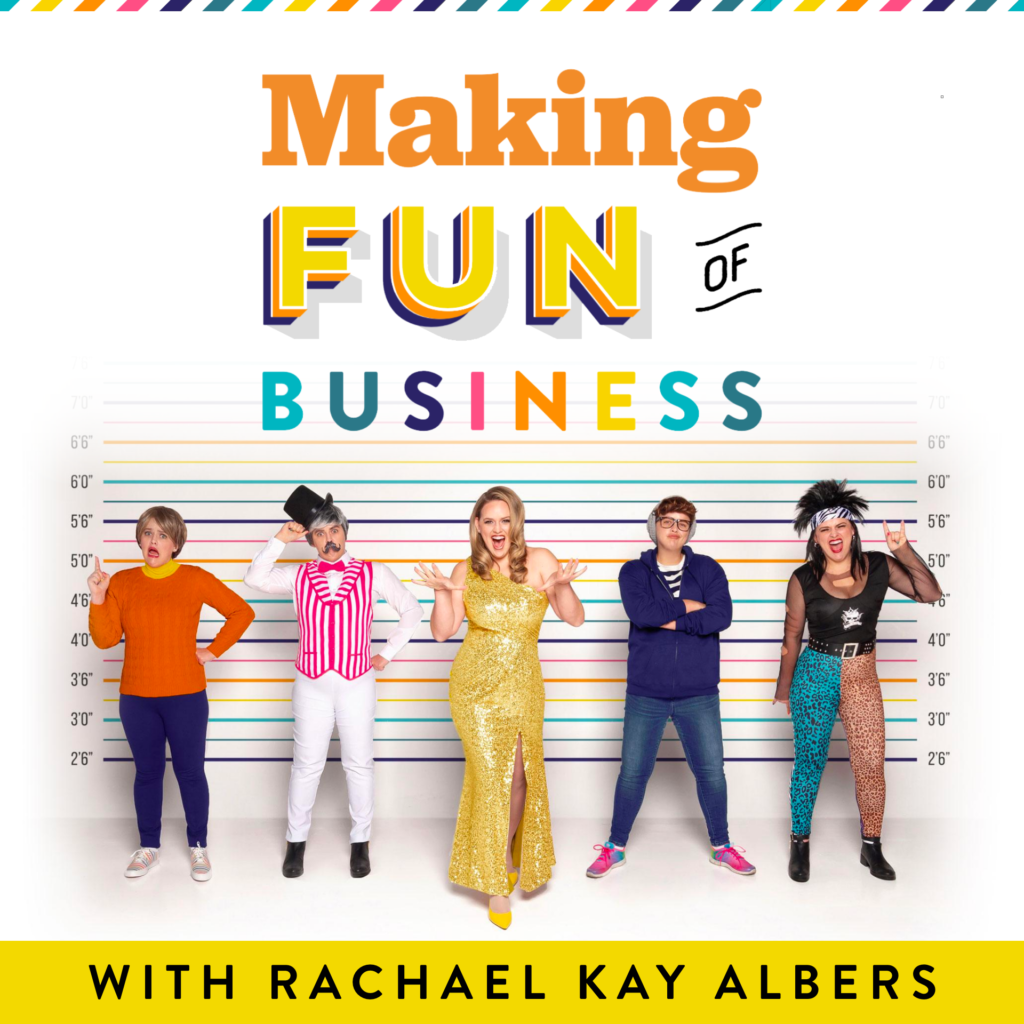 About the Making Fun of Business podcast
Hey GirlBoss! JK. We don't pull that infantilizing crap around here. Making Fun of Business, hosted by comedian Rachael Kay Albers, is the podcast for anyone who's been burned (or just bored) by the Online Marketing Industrial Complex and is ready to become the leader they need. TLDR; success is an inside job!
Where we swap B School for FREE SCHOOL, easy for honest, and goal digging for marketing in pursuit of meaning.
You don't need 10K, pay to play, or rosé all day to build a business and make an unforgettable impact in your industry.
Come for the truth telling trash talk, stay to meet your new favorite thought leader. Hint: it's you!
If you love the show and want to support more marketing muckraking, please subscribe, review, share with your enemies, and if you really want to make my day, you can go to BuyMeARobe.com and leave a little something on the nightstand. 

I have no freebie to tempt you with.
No automated email sequence to whisper sweet nothings into your inbox late at night.
Here's what I do have: a hilarious show on how to market with integrity, sell your services & products successfully, and still not take yourself too seriously. Join me here: