Can capitalism be reformed?
Yvon Chouinard, self-styled "reluctant billionaire" and Patagonia founder recently made headlines for giving up ownership of the company and dedicating future profits to fight climate change. "Earth is now our only shareholder," Chouinard wrote in an open letter.
The Internet went wild for the news with many celebrating the move as proof that there is hope for capitalism yet. In an exclusive New York Times interview Chouinard himself positioned the decision as just that:
"Hopefully this will influence a new form of capitalism that doesn't end up with a few rich people and a bunch of poor people. We are going to give away the maximum amount of money to people who are actively working on saving this planet."
Others questioned whether the move was a way of avoiding the $700 million tax hit that would come with selling the company, while keeping company control within the family. We've def got billionaire trust issues, even with the "reluctant" ones.
Jeff Harry joins me again on this episode of Marketing Muckraking to talk about the dangers of billionaires with platinum cards and hearts of gold.
And we explore the question of whether we can "fix" capitalism...and if the uberwealthy are the ones to do it?
Is the solution to our systemic problems simply a matter of rustling up more well-meaning millionaires and billionaires?
Let's CoMuckrake about it.   Come along for a wild and messy ride. We cover:
Why a "reluctant billionaire" like Yvon Chouinard of Patagonia might not be qualified to fix the planet and its problems
How "the one moral CEO in America," Dan Price of Gravity payments, fell from grace and why we're embarrassed we ever re-tweeted him
Andrew Carnegie, wealthy philanthropy, and paternalism in do-good clothing
The branding of quiet quitting and what the PPP loans tell us about reforming capitalism
What climate change has to do with Super Mario World
Camp Reset and how a stuffed monkey named Uche might save us all
A simple practice to help you deconstruct capitalism today — or your money back!
About Jeff Harry
Jeff Harry shows individuals and companies how to tap into their true selves, to feel their happiest and most fulfilled — all by playing. Jeff believes that we already have many of the answers we seek, and by simply unleashing our inner child, we can find our purpose and, in turn, help to create a better world.
An international speaker and consultant, Jeff has presented at conferences such as INBOUND, SXSW, and Australia's Pausefest, showing audiences how major issues in the workplace can be solved using play. He was selected by Engagedly as one of the Top 100 HR Influencers of 2020 for his organizational development work around addressing toxicity in the workplace. His playwork has been featured in the New York Times, AJ+, SoulPancake, the SF Chronicle, and CNN. And he's a damn good follow on TikTok. Go check him out.
Links from the episode:
Muckraker's note: My episodes with Jeff always start with him messaging me on Instagram like, "Should we talk about this?! Let's talk about this." So we don't do this in a typical podcast interview style, like you might be used to, but two friends dishing and debating the topics we're passionate about. The day we recorded this, Jeff had some tech issues getting onto Instagram live, which I have edited to make our conversation easier to follow. But that also means there's more of an RKA monologue at the beginning before Jeff could connect and some messy IG audio — but by the time you hear what Jeff has to say at the end of our chat, I think you'll agree that this messiness is a plus, not a minus. On with the show.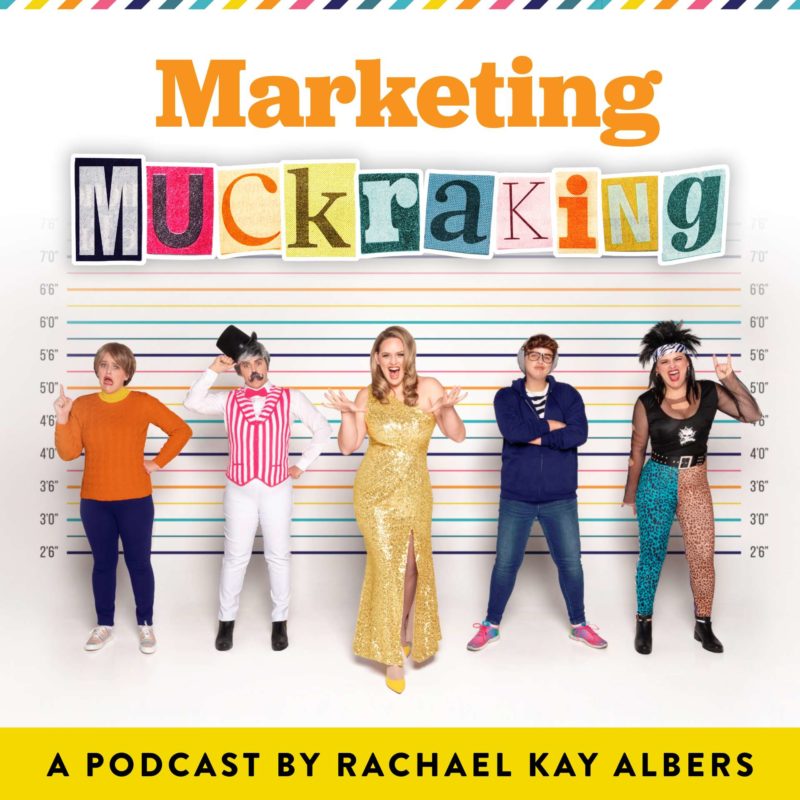 About the Marketing Muckraking podcast
Welcome to Marketing Muckraking, the show that asks not simply what brand culture can do for us, but what it's doing to us — with your host, creative director, brand strategist gone wild, and the court jester of online business, Rachael Kay Albers — making fun of business and making business fun.
This is the show for rebels, revolutionaries, and renegades who run businesses that burn the rulebook. If you're sick of business podcasts with all the answers — I've got nothing but questions.
Where we swap B School for FREE SCHOOL, easy for honest, and goal digging for marketing in pursuit of meaning.
If you love the show and want to support more marketing muckraking, please subscribe, review, share with your enemies, and if you really want to make my day, you can go to BuyMeARobe.com and leave a little something on the nightstand. 

I have no freebie to tempt you with.
No automated email sequence to whisper sweet nothings into your inbox late at night.
Here's what I do have: a hilarious show on how to market with integrity, sell your services & products successfully, and still not take yourself too seriously. Join me here: