Where your big ideas meet my bold vision for branding and marketing that puts you on the map.
And on the bestseller lists, the big stages, and everybody's damn radar who needs you.
So, you've been wanting to work with me but you're waiting for a sign. This is it.
I've taken the best of my signature RKA INK brand and marketing experience and turned it into a 2-day retreat, where we work together IRL to plot your path to unforgettability.
In our two-day retreat, we'll work together to plan how to make memories with your audience and your customers:
Part I: Your Brand Core
How You Want to Be Remembered:
We'll help uncover your core values, what makes you special, differentiates you from the competition, and defines who you are, and how you want your audience to feel about and remember your brand. We'll discuss:
Part 2: Your Marketing Flywheel
How you'll make memories with customers:
We'll zero in on the marketing flywheel you need to spin up to make this your year of unforgettability. We'll discuss:
Bonus: we'll laugh, we may even cry, and we'll have a ton of fun together.
Don't want the fun to end?
It doesn't! After your 2-day retreat, we'll meet for two follow-up virtual sessions, where I support you in taking action.
And if you love all the ideas we come up with in our time together, but need help with implementation — my reinvention studio RKA INK has your back. We can help you write new copy, design a new brand and website, and support you in the ongoing work of making memories with your customers.
How do I plan our time together?
Before you arrive for our retreat, the process kicks off with a comprehensive Vision & Strategy Workshop.
You get access to your own client strategy dashboard, where you can take your time and move through the Vision & Strategy workshop on your own. The workshop is a deep dive into the business and marketing foundations I'll use to better understand your business and guide our days together.
You'll complete two assignments leading up to our retreat. (Yes, you have homework! How else can I become your brand's BFF?!)
What's a Home Office Palace?!
Our technicolor dream space to work & play
I've designed an entire floor of my home to support and inspire my work — and allow me to host you here, too! Think rainbows, comfy couches, a fridge stocked with your favorite snacks, and even room to do cartwheels if that's what you're into. (Personally, I like to blast yacht rock and dance like no one's watching to get into the creative groove.) Check out the Home Office Palace Instagram for a peek at where we'll be working and playing together.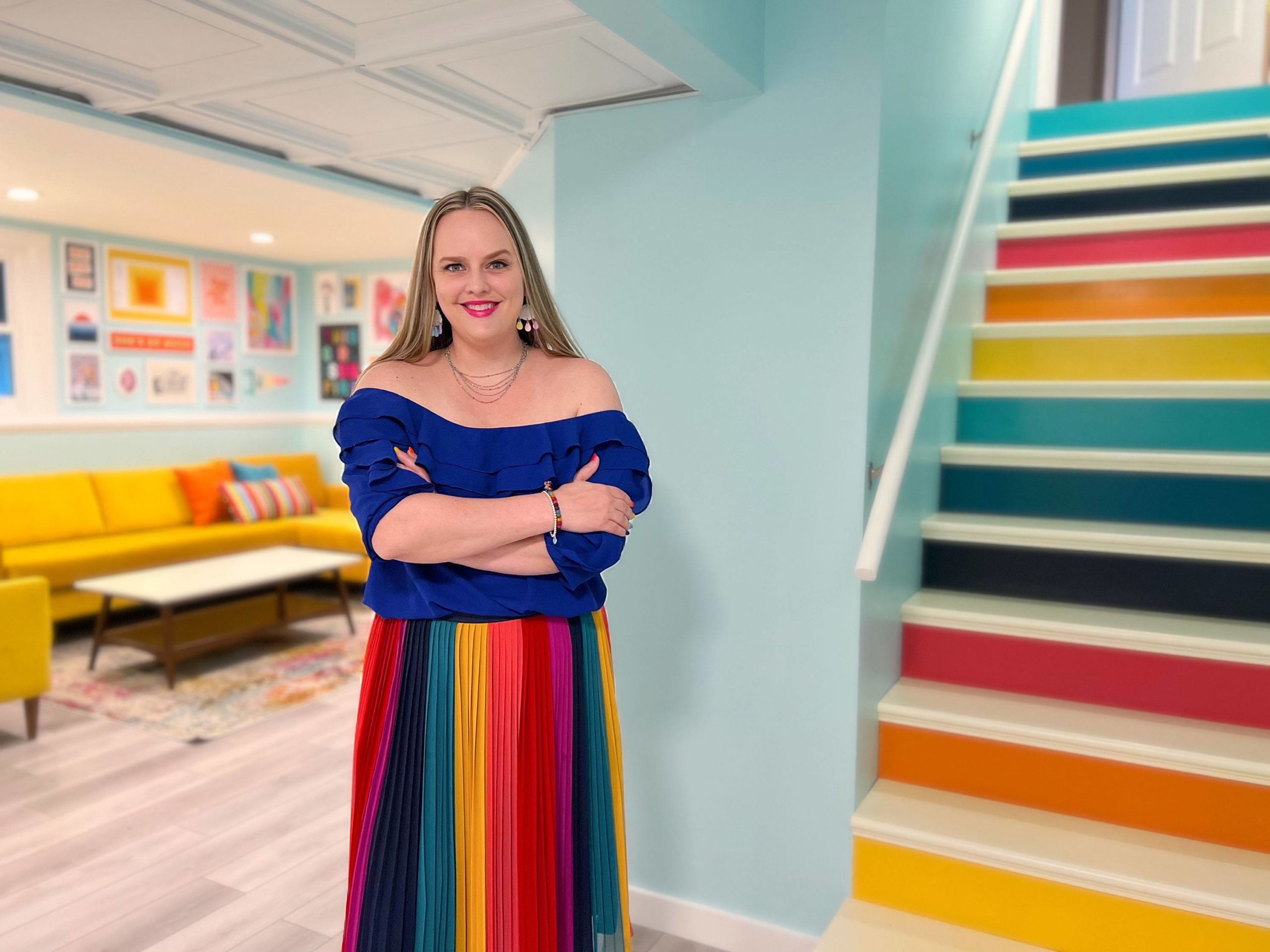 What are the dollars and cents of it all?
This experience starts at $4,000
Your two-day experience starts at $4,000 includes our time together, strategy prep beforehand, a 90-minute planning session, access to my Vision & Strategy workshop, and two follow-up sessions.
Why "starts at"? Because, hey! I'd love to plan a photoshoot or create a customized branding and marketing manual for you. That's why we need to talk, so we can figure out what makes the most sense for your business right now.
Just want the two-day retreat? That'll be $4,000. Or we can add more goodies. This isn't a one size fits all experience, so let's tailor it to what you need most.